Registered Nurse - Resource Team(Adult or Paediatric) - permanent roles across the hospital. What is your specialitity?
at Auckland District Health Board (Central Auckland), Auckland
Mō tēnei tūranga mahi

| About this role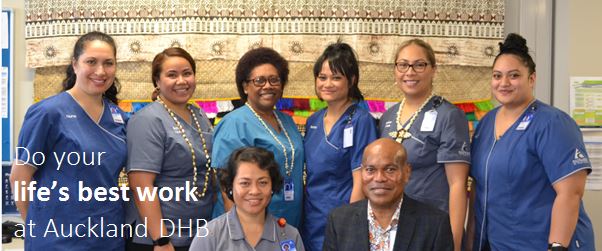 Multiple Flexible Options for long term nursing career path
Flexi shifts - 8 to 12 hours available (shifts are negoitable)
One of the advantages we have as one of the largest health employers in New Zealand is the multiple career pathways for nurses.
The Auckland DHB Resource Nursing team are looking for NZ experienced Registered Nurses (Adult and Paediatric) to join the rest of our team on a permanent full time or part time contract. This is a team of nurses that are assigned to departments around the hospital to fill in for short staffing or high patient demand situations on an as needs basis. These are still permanent positions and provide great variety and learning through a range of settings around the hospital. They are a great way to start at Auckland DHB and act as a platform for heading in your chosen specialty, if you wish to take a different direction.
We offer full orientation and support to achieve competencies across diverse clinical specialties. The Auckland DHB is committed to providing staff with training and development opportunities to enable them to fulfil both personal and professional goals. There has never been a more exciting time for Registered Nurses to gain a breadth of experience across the fantastic services that we have available here at the Auckland DHB. We also support Overseas Candidates Relocation to Auckland.
If you are a highly motivated, flexible and enthusiastic individual like the rest of our colleagues here, join us and make a real difference to our patient and whānau communities.
Our team has the opportunity to contribute to making a difference across wide variety of specialties on a regular basis. This can include General Medicine, Emergency Department/ ICU, Surgical/Operating rooms, Community/district nursing, Women's and Child Health, and Stroke/ Older People Care to name a few.
These excellent opportunities are also for those who are about to start their nursing career after completion of NetP or CAP, and those still overseas who want to enjoy the opportunity to work in New Zealand (hopefully you are already registered with Nursing Council New Zealand www.nursingcouncil.org.nz ).
It is important to note that these roles consist of a variety of 8 hour shifts over the 24 hour period, 7 days week (fully rostered).
This is an opportunity for you to be a part of our professional and skilled Resource Nursing team. So if you have been looking for a rewarding role in a dynamic and diverse healthcare environment, please submit an online application with your latest CV and Cover Letter providing information on your previous nursing experience. (Due to internet security reasons applications via email will not be accepted)
If you have any queries about this opportunity or accessibility or technical issues with the online process, please contact Candida Hall - Recruitment Consultant via email on CandidaH@adhb.govt.nz or Ph.: 09 631 0720 to discuss how we can best support your application.
For the biggest health sector job board in New Zealand visit www.kiwihealthjobs.com
Ngā taipitopito tūranga mahi

| Job details
| | |
| --- | --- |
| Employer: | Auckland District Health Board (Central Auckland) |
| Location: | Auckland |
| Position type: | Permanent Full time |
| Category: | Health |
| Date listed: | 05-Jan-2022 |
| Closing date: | 23-Jan-2022 |
| Reference: | AUC13176 |
| Attachment: | No File Attached |
| File links: | |
| Website: | https://www.adhb.health.nz/ |
Note: You may be redirected to the employer's careers website.