Social Worker - Adult Allied Health (Fixed-Term)
at Auckland District Health Board (Central Auckland), Auckland
Mō tēnei tūranga mahi

| About this role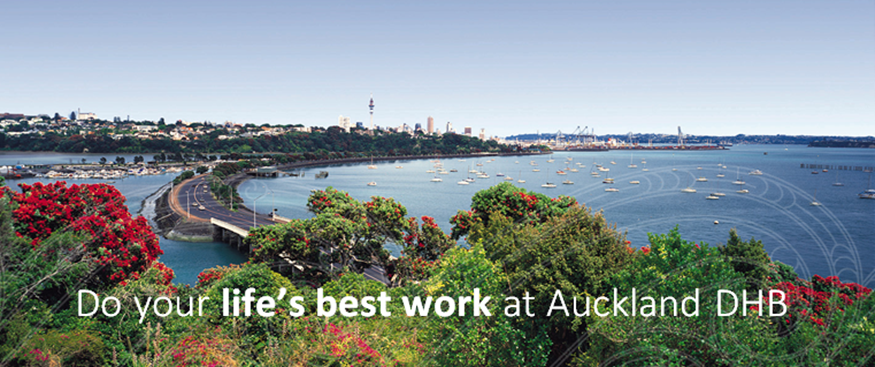 Join our social and friendly multidisciplinary team
Fixed-Term roles available working in older peoples health and cancer support
Continuous professional development opportunities available
Ko wai mātou | Our Organisation
At Te Toka Tumai | Auckland DHB we are committed to upholding Te Tiriti o Waitangi and providing culturally safe care. We value role modelling manaakitanga as demonstrated by Ngāti Whātua in the gifting of their whenua on which our hospitals stand. We aspire to having a workforce reflective of the communities we serve and achieving equitable outcomes for all.
Te whiwhinga mahi | The Opportunity
We are looking for 2 NZ registered Social Workers with proven clinical competence to join our social work team at Auckland City Hospital. These roles offer the opportunity to work either within our older people's health team or cancer support team. Monday to Friday fixed-term, part and full-time hours available (0.8 FTE – 1.0 FTE) - As part of the Adult Allied Health team your role will also include:
Providing comprehensive assessment and outcome focused innovative care, applying evidence-based practice, interventions and education within the area of speciality
Work collaboratively alongside medical, nursing & allied health colleagues. Valuing relationships and maintaining strong networks with all stakeholders
Once you have completed a thorough orientation to your new role and become familiar with it, the older people's health team Social Worker may be required to join the after-hours on-site and on-call rosters – comprehensive training will be provided.
Our team provide social work services to patients and their families who may be experiencing grief and loss associated with sudden or chronic injury, disability or ill health; poor diagnosis; end of life and sudden death. The work also includes responding to family violence, elder abuse and neglect, child protection issues, patients lacking in capacity and patients presenting with treatment non-adherence.
Click here to view the position description
Nga Pūkenga Motuhake | Important Skills
As the ideal candidate for this role you have the following skills and attributes:
Evidence of current registration with the New Zealand Social Workers' Registration Board and a current Annual Practicing Certificate
Proven post grad experience in health social work, grief and loss, vulnerable adults, child protection and family violence intervention
Full, clean class 1 NZ drivers licence
Previous practice experience with older people and in rehabilitation would be advantageous
Able to navigate complex dynamics as you hold the needs and best interests of the patient and whānau in view
Strong cultural knowledge; capacity to work effectively in a bicultural hospital environment
A genuine team player and your work history will reflect a sound work ethic
Advanced interpersonal communication skills
For more information about this role please contact Hannah Frost (Interim Clinical Lead | Social Work) on 021 938 540 or hfrost@adhb.govt.nz
He aha ngā painga o tēnei mahi mōu | Why you will enjoy working here
We recognise there is more to life than mahi | work, and we encourage and provide access to all our staff several services and benefits to support themselves whilst they are employed within Te Toka Tumai | Auckland DHB.
You will be provided with regular supervision and continuing professional development. You will also receive routine and regular support from your Practice Supervisor, Clinical Lead and Professional Leader.
For more information on what we offer, please click here
Me pēhea te tuku tono | How to apply
Advertising closes: Friday, 3rd June at Time 11:59 pm (New Zealand standard time).
Please submit your application online, outlining your experience and motivation to apply to this role. Your cover letter will be a key part of our assessment process, so please highlight how your experience relates to the role and to the competencies listed in the position description.
Click here to view details about our recruitment process
If you have any queries about accessibility, or technical issues with the online process, please contact Elismha Lubbe - Recruitment Consultant at ElismhaL@adhb.govt.nz quoting ref #ADHB020322SW to discuss how we can best support your application.
For the largest health sector job board in New Zealand, visit www.kiwihealthjobs.com
Ngā taipitopito tūranga mahi

| Job details
| | |
| --- | --- |
| Employer: | Auckland District Health Board (Central Auckland) |
| Location: | Auckland |
| Position type: | Permanent Full time |
| Category: | Health |
| Date listed: | 25-Apr-2022 |
| Closing date: | 03-Jun-2022 |
| Reference: | ADHB020322SW |
| Attachment: | No File Attached |
| File links: | |
| Website: | https://www.adhb.health.nz/ |
Note: You may be redirected to the employer's careers website.