Clinical Nurse Specialist - Kaiarahi Nahi - Multiple roles
at Auckland District Health Board (Central Auckland), Auckland
Mō tēnei tūranga mahi

| About this role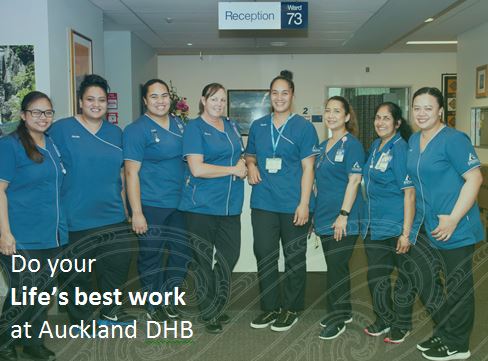 Are you passionate about achieving equitable outcomes for Māori and their whānau?

Do you want to be an advocate for culture change?

Are you motivated to improve care pathways for Māori patients and whānau?

Are you interested in leadership and development opportunities?
Ko wai mātou | Our Organisation
At Te Toka Tumai | Auckland DHB, we are committed to upholding Te Tiriti o Waitangi and providing culturally safe care. We value role modelling manaakitanga, as demonstrated by Ngāti Whātua in the gifting of their Whenua on which our hospitals stand. We aspire to having a workforce reflective of the communities we serve and achieving equitable outcomes for all.
Te whiwhinga mahi | The Opportunity
We have permanent full-time nursing positions available within the Kaiārahi Nāhi team across multiple directorates within Adult and Child Health.
We are looking for Māori nurses to join our expanding Kaiārahi Nāhi team within Te Toka Tumai to ensure care pathways mitigate avoidable, unjust or unnecessary barriers caused by the health care system for Māori. You will assist patients along their journey, ensuring they understand the process and feel supported. You will be aware of the services available to patients within the DHB and can work with both clinical and non – clinical staff. Learnings will be fed back to inform system change and capability build.
Kaiārahi Nāhi are supported by a wider network of the Māori Health Team where we are passionate about bettering health outcomes for our Māori whānau and communities. There are many workforce development opportunities as we grow into a space that recognises and embraces Mātauranga Māori, te ao Māori, te reo Māori and Tikanga Māori. We are a whānau centred and committed team focused on advocating for our patients and improving health outcomes and health equity for Māori.
Kaiārahi Nāhi work throughout several specialties at Te Toka Tumai and are constantly expanding. Placement in specialities will be discussed with applicants to determine which speciality best supports you and your passion. This advert will be staying open, but contact will be made with applicants as they apply. Put through your application today!
Nga Pūkenga Motuhake | Important Skills
We are looking for Māori registered nurses with;
A current NZ practicing certificate that have a passion to better health outcomes for Māori whānau.

Minimum of 3-5 years experience working in the either the Community or hospital setting

An ability to build relationships with both clinical and non–clinical staff and contribute regularly to leadership meetings.

A "can do" attitude that can work with and challenge the system to affect equitable change.

An ability to whakawhanaungatanga and form strong, meaningful connections with whānau that acknowledges, protects and enhances their mana.
If this sounds like you and you have the relevant experience and knowledge, please apply as below – we would love to hear from you!
For all aspects of this role and experience/knowledge required please see the Position Description.
This position requires any worker to be vaccinated for vaccine-preventable diseases, including Covid-19
This position is Core Children's worker under the Children's Act & requires a full safety check completed before any new employee starts.
He aha ngā painga o tēnei mahi mōu | Why you will enjoy working here
We recognise there is more to life than mahi | work, and we encourage and provide access to all our staff several services and benefits to support themselves whilst they are employed within Te Toka Tumai | Auckland DHB.
For more information on what we offer, please click here.
Me pēhea te tuku tono | How to apply
Please submit your application online, outlining your experience and motivation to apply to this role.
If you have any queries about this opportunity or accessibility or technical issues with the online process, please contact Vaidehi Sharma, Recruitment Consultant, at Vaidehis@adhb.govt.nz quoting GRE00448 to discuss how we can do our best to support your application
Ngā taipitopito tūranga mahi

| Job details
| | |
| --- | --- |
| Employer: | Auckland District Health Board (Central Auckland) |
| Location: | Auckland |
| Position type: | Permanent Full time |
| Category: | Health |
| Date listed: | 09-Jun-2022 |
| Closing date: | 01-Jan-2099 |
| Reference: | GRE00448 |
| Attachment: | No File Attached |
| File links: | |
| Website: | https://www.adhb.health.nz/ |
Note: You may be redirected to the employer's careers website.