HEMS Fellow- Adult ED
at Te Whatu Ora - Health New Zealand Te Toka Tumai Auckland, Auckland
Mō tēnei tūranga mahi

| About this role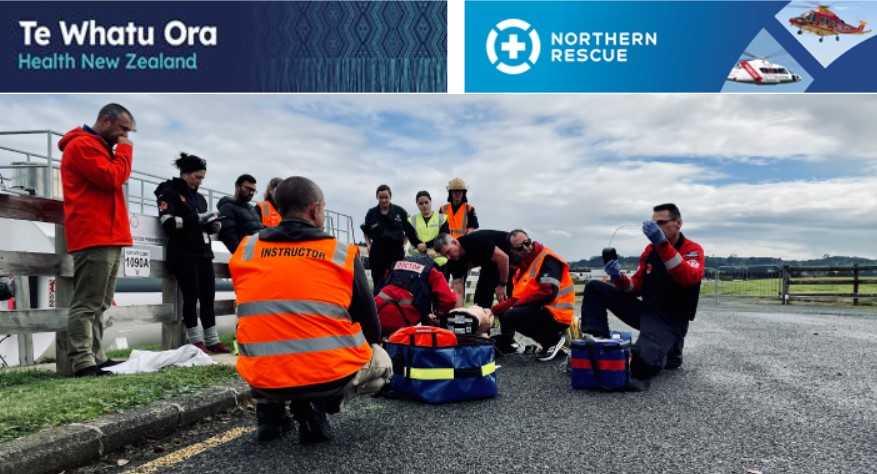 Fellow position available - Adult Emergency Department (AED) and Prehospital and Retrieval Medicine (PHRM)
Full time (1.0FTE), 12-month fixed term (ACEM accredited for the Diploma in Pre-Hospital and Retrieval Medicine)
Ko wai mātou | Our Organisation
We are Te Whatu Ora Te Toka Tumai Auckland. We provide health and disability services to more than half a million people living in central Auckland, regional services for Northland and greater Auckland, and specialist national services for the whole of New Zealand. Our main sites are Auckland City Hospital, Greenlane Clinical Centre and Starship Children's Hospital, located in central Auckland.
We are part of Te Whatu Ora – Health New Zealand, the overarching organisation for New Zealand's national health service. Te Whatu Ora leads the day-to-day running of the health system, with functions delivered at local, district, regional and national levels.
We are committed to upholding Te Tiriti o Waitangi and providing culturally safe care. We value role modelling manaakitanga as demonstrated by Ngāti Whātua in the gifting of their whenua on which our hospitals stand. We aspire to having a workforce reflective of the communities we serve and achieving equitable outcomes for all.
Te whiwhinga mahi | The Opportunity
Join Te Toka Tumai, Auckland as a Fellow in our Adult Emergency Department (AED) and Prehospital and Retrieval Medicine (PHRM) service. Based at Auckland City Hospital, one of the largest public hospitals in New Zealand which includes a world class trauma centre. The Adult Emergency Department (AED) is a modern, purpose built, world class facility that opened in 2003. We have an enthusiastic team of clinicians who have expertise in resuscitation, ultrasound, simulation, toxicology and pre-hospital & retrieval medicine. The closely knit team consists of FACEM's, medical officers and resident medical officers. The department sees about 70,000 adult patients annually with a high patient acuity.
The department in conjunction with the Northern Rescue Helicopter run the Helicopter Emergency Medical Service (HEMS), which has been successful in providing fully integrated care for patients across the Northern Region of the North Island, both in the pre-hospital and inter-hospital retrieval settings. The department is also active in research and is currently involved in a number of key national and international projects. This role is ACEM accredited for the Diploma in Pre-Hospital and Retrieval Medicine.
We have a full time position in our team (1.0 FTE - 40hrs per week) working 0.5FTE AED and 0.5FTE PHRM, 12-month fixed term. Start in February 2023. If this interests you, please apply now!
For further details, please refer to the position description here.
Nga Pūkenga Motuhake | Important Skills
As an ideal candidate for this Fellow position, you will need to:
Be a medical practitioner fully registered with the New Zealand Medical Council.
Have late-Stage Advanced Trainee with the Australasian College of Emergency Medicine
Have a minimum of 3 years' experience in Emergency Medicine within a compatible health service to NZ.
Have a minimum of 6 months Anaesthetics experience, Critical / Intensive Care experience OR Paediatrics experience
*If you are international candidate who is eligible for registration with the Medical Council of New Zealand, we would highly recommend submitting your qualifications for primary source verification through EPIC. You can also find more information on applying here.*
For more information about this role please contact AED Clinical Director, Dr Mark Friedericksen at MarkFr@adhb.govt.nz or Dr Chris Denny, NRHL Medical at Director CDenny@adhb.govt.nz or md@nrhl.co.nz.
He aha ngā painga o tēnei mahi mōu | Why you will enjoy working here
We recognise there is more to life than mahi | work, and we encourage and provide access to all our staff several services and benefits to support themselves whilst they are employed within Te Toka Tumai. Auckland offers it all – the great outdoors with beaches and mountains, shows and concerts, sports, shopping, wining and dining. It's a great place to raise children and enjoy and relax when you're an empty nester. It provides a perfect base for exploring New Zealand generally with excellent national and international flight networks. Here are a few websites to find out more about living in Auckland – schools, houses for sale or rent, and what you can do when you are not at work:
http://www.heartofthecity.co.nz/
For more information on what we offer, please click here.
Me pēhea te tuku tono | How to apply
Please submit your application online, outlining your experience and motivation to apply to this role.
If you have any queries about accessibility, or technical issues with the online process, please contact Anesha Pillay, Recruitment Consultant via aneshag@adhb.govt.nz or +64 21 390 875 to discuss how we can best support your application.
Click here to view details about our recruitment process
Immigration/Visa Support
Immigration/Visa Support
Immigration NZ has introduced a new Accredited Employer Work Visa system from 4 July 2022 that includes a simplified residency process for health workers on the new "Green List" of occupations – and this position is one of those designated critical positions! Of course, for successful candidates offered a position with us who require a Work Visa, we will provide support with their Visa application. Here are the links to two key pages of NZ Immigration's official site for more information: Immigration NZ Accredited Employer Work Visa and Immigration NZ Green List Occupations .
Ngā taipitopito tūranga mahi

| Job details
| | |
| --- | --- |
| Employer: | Te Whatu Ora - Health New Zealand Te Toka Tumai Auckland |
| Location: | Auckland |
| Position type: | Contract/Temp Full time |
| Category: | Health |
| Date listed: | 04-Sep-2022 |
| Closing date: | 26-Sep-2022 |
| Reference: | ADHB15384 |
| Attachment: | No File Attached |
| File links: | |
| Website: | https://www.adhb.health.nz/ |
Note: You may be redirected to the employer's careers website.