Senior Pharmacist Paediatric Haematology and Oncology, Cancer and Blood Service Clinical Pharmacy Services
at Te Whatu Ora - Health New Zealand Te Toka Tumai Auckland, Auckland
Mō tēnei tūranga mahi

| About this role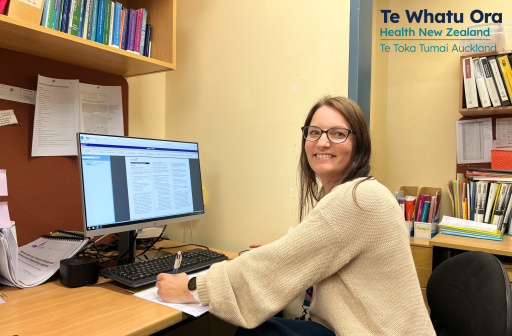 Work with the leading and largest paediatric cancer centre in New Zealand
Great opportunity to be involved in research
Supported by a team of experienced practitioners
Work closely with the 14 regional paediatric cancer care teams to ensure optimal shared care
We are looking for an experienced Pharmacist to join our team in a coveted Senior Pharmacist position available in our Paediatric Haematology and Oncology service based in Starship Children's Hospital.
This is a full time, fixed term position through to June 2024.
Starship Cancer and Blood Centre provides comprehensive Haemopoietic Stem Cell Transplant service for New Zealand. We are a Children's Oncology Group (COG) affiliated and Foundation for the Accreditation of Cellular Therapy (FACT) Centre.
About the role
As an experienced clinical pharmacist you will enjoy applying your expert knowledge to provide a high quality clinical pharmacy service to paediatric haematology and oncology patients in both our outpatient and inpatient services at Starship Children's Hospital.
The scope in this role is wide and will include, but is not limited to, managing chemotherapy, inpatient clinical pharmacy services, clinical screening of prescriptions, delivery of clinical trial protocols, prescriptions and guidelines, education and training of peers and colleagues.
You will be an integral part of the multidisciplinary paediatric haematology and oncology teams and provide support and guidance in all aspects of medication use in these specialties. You will work closely with specialist clinicians and other specialist pharmacists, the Pharmacy Aseptic Production Unit for coordination of outpatient and inpatient chemotherapy.
Click here to view the position description
About us
Our Pharmacy department is an innovative and exciting place to work. We employ over 150 staff including those working within two retail pharmacies, Aseptic Production Unit and a flagship inpatient service. We serve over 1200 inpatient beds. Our guiding principle is to put the patient first in everything we do. Our award winning and growing clinical pharmacy service has over 40 pharmacists working across both secondary and tertiary level services.
We have a robust service strategy which ensures that our staff are continuingly driving to work at the top of their scope and pushing the boundaries of clinical pharmacy practice. We are committed to do and be our best, to value and support all staff, to work together with trust respect and honesty, and display commitment and accountability to provide a high quality service to our patients.
About you
You will be an enthusiastic clinical pharmacist, committed to furthering yourself and your peers with the ability to role model the Te Toka Tumai values.
Qualified with a B.Pharm degree or applicable NZ recognised qualification from overseas, postgraduate clinical qualifications are desirable.
Registered or be eligible for registration with the Pharmacy Council of New Zealand and hold a current Annual Practising Certificate
3 to 5 years clinical experience, with at least 2 to 3 years of recent paediatric and/or haematology and oncology experience
Drive, enthusiasm and initiative with excellent organisational and inter-personal skills are essential
Ability to work in a bicultural environment and knowledge of the acute hospital environment
Pro-active and can-do approach with the ability to be flexible and work autonomously as well as in a team
Excellent communication and time management skills are essential, as well as the ability to develop close working relationships
For more information, please contact the hiring manager, Kristen Greville, Associate Clinical Lead Pharmacist on kgreville@adhb.govt.nz or 021 0413017
To apply please click on the 'Apply' tab below and submit your application online attaching your updated CV and Covering Letter. For help with your application please email Aaron Chamberlain – Recruitment Coordinator at AaronChamb@adhb.govt.nz
Click here to view details about our recruitment process
For the largest health sector job board in New Zealand, visit www.kiwihealthjobs.com
pharma23
Ngā taipitopito tūranga mahi

| Job details
| | |
| --- | --- |
| Employer: | Te Whatu Ora - Health New Zealand Te Toka Tumai Auckland |
| Location: | Auckland |
| Position type: | Contract/Temp Full time |
| Category: | Health |
| Date listed: | 15-May-2023 |
| Closing date: | 15-Jun-2023 |
| Reference: | ADHB18043S |
| Attachment: | No File Attached |
| File links: | |
| Website: | https://www.adhb.health.nz/ |
Note: You may be redirected to the employer's careers website.