Pharmacy Technician - Supply & Logistics
at Te Whatu Ora - Health New Zealand Te Toka Tumai Auckland, Auckland
Mō tēnei tūranga mahi

| About this role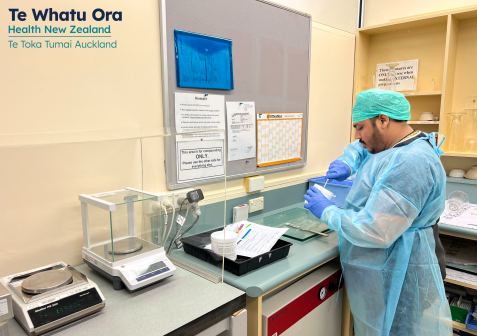 Be a part of NZ's largest hospital pharmacy department
Opportunity to develop your career within Pharmacy
Friendly and supportive team
Full-time permanent positions
Working with Te Toka Tumai Auckland is an opportunity for you to make a real difference in the health and wellbeing of our Auckland community.
You'll be joining the Medicines Supply and Logistics team based at Auckland City Hospital who works with Te Toka Tumai Auckland's values to welcome, respect one another, work together and to always aim high.
To be considered for this role, you will be required to hold a Level 5 NZQA Qualification for Pharmacy Technicians. Local and Overseas pharmacists will not meet this criteria, and should look into registration with the Pharmacy Council of New Zealand.
Te whiwhinga mahi | The Opportunity
Our Pharmacy department is an innovative and exciting place to work. We employ over 100 staff working within two retail pharmacies and the flagship inpatient service. We serve over 1200 inpatient beds. Our guiding principle is to put the patient first in everything we do. We are committed to do and be our best, to value and support all staff, to work together with trust respect and honesty and display commitment and accountability to provide a high quality service to our patients.
In this role you will dispense registered, unregistered, investigational, compliance packed and aseptically and extemporaneously compounded medicines, supply controlled drugs, repack medicines, prepare Pyxis top ups, order compounded products from 3rd party suppliers, prepare Health Pac claims for PCT items and work in dispensary, extemps, aseptics, inventory, clinical trials and distribution. You will be supported by a team of experienced pharmacists, pharmacy technicians and pharmacy assistants.
You will work in a safe, efficient and professional manner according to legislation, Health & Disability Standards, Good Manufacturing Practice, Good Clinical Practice and Standard Operating Procedures. This role is covered by the PSA Allied, Public Health & Technical MECA.
A full induction, training and validation programme and ongoing support will be provided.
For further details, please refer to the position description here.
Nga Pūkenga Motuhake | Important Skills
As the ideal candidate for this role, you are a NZQA level 5 pharmacy technician who is accurate and efficient and your values will align with ours. You will be part of a large, high performing team who all have a common passion, care and enthusiasm for "putting the patient first" in everything we do. You will have a flexible approach, effective communication, interpersonal and time management skills and intermediate computer skills. Preference will be given to candidates that have recent busy NZ hospital and clinical trials experience, are validated in aseptic compounding, competent using ePharmacy and Toniq and have worked with automated systems such as Pyxis, repacking and blister packing robots.
If you would like the opportunity to contribute to the health and wellbeing of our Auckland community we would love to hear from you.
For more information about this role, please contact Naomi Woods, Clinical Lead Pharmacist, Supply & Logistics on NaomiW@adhb.govt.nz
He aha ngā painga o tēnei mahi mōu | Why you will enjoy working here
Te Toka Tumai Auckland is one of the leading healthcare providers in New Zealand offering a wide range of tertiary and quaternary clinical services to a large and diverse population. Here is what we can offer you:
A comprehensive and well-structured orientation programme
A fast paced, unique and rewarding work environment that provides a high level of job satisfaction and is always interesting
An opportunity to grow both as a person and as a technical professional while working with a very friendly team
Continuous improvement and development opportunities
A great team environment and supportive work culture
Discounts at a variety of businesses, free eye tests
For more information on what we offer, please click here.
Me pēhea te tuku tono | How to apply
Please submit your application online, outlining your experience and motivation to apply to this role.
If you have any queries about accessibility, or technical issues with the online process, please contact Aaron Chamberlain - Recruitment Consultant at AaronChamb@adhb.govt.nz to discuss how we can best support your application.
Ko wai mātou | Our Organisation
We are Te Whatu Ora Te Toka Tumai Auckland. We provide health and disability services to more than half a million people living in central Auckland, regional services for Northland and greater Auckland, and specialist national services for the whole of New Zealand. Our main sites are Auckland City Hospital, Greenlane Clinical Centre and Starship Children's Hospital, located in central Auckland.
We are part of Te Whatu Ora – Health New Zealand, the overarching organisation for New Zealand's national health service. Te Whatu Ora leads the day-to-day running of the health system, with functions delivered at local, district, regional and national levels.
We are committed to upholding Te Tiriti o Waitangi and providing culturally safe care. We value role modelling manaakitanga as demonstrated by Ngāti Whātua in the gifting of their whenua on which our hospitals stand. We aspire to having a workforce reflective of the communities we serve and achieving equitable outcomes for all.
Ngā taipitopito tūranga mahi

| Job details
| | |
| --- | --- |
| Employer: | Te Whatu Ora - Health New Zealand Te Toka Tumai Auckland |
| Location: | Auckland |
| Position type: | Permanent Full time |
| Category: | Health |
| Date listed: | 14-Sep-2023 |
| Closing date: | 28-Sep-2023 |
| Reference: | ADHB18383 |
| Attachment: | No File Attached |
| File links: | |
| Website: | https://www.adhb.health.nz/ |
Note: You may be redirected to the employer's careers website.