Nurse Specialist - Haematology (Acute)
at Te Whatu Ora - Health New Zealand Te Toka Tumai Auckland, Auckland
Mō tēnei tūranga mahi

| About this role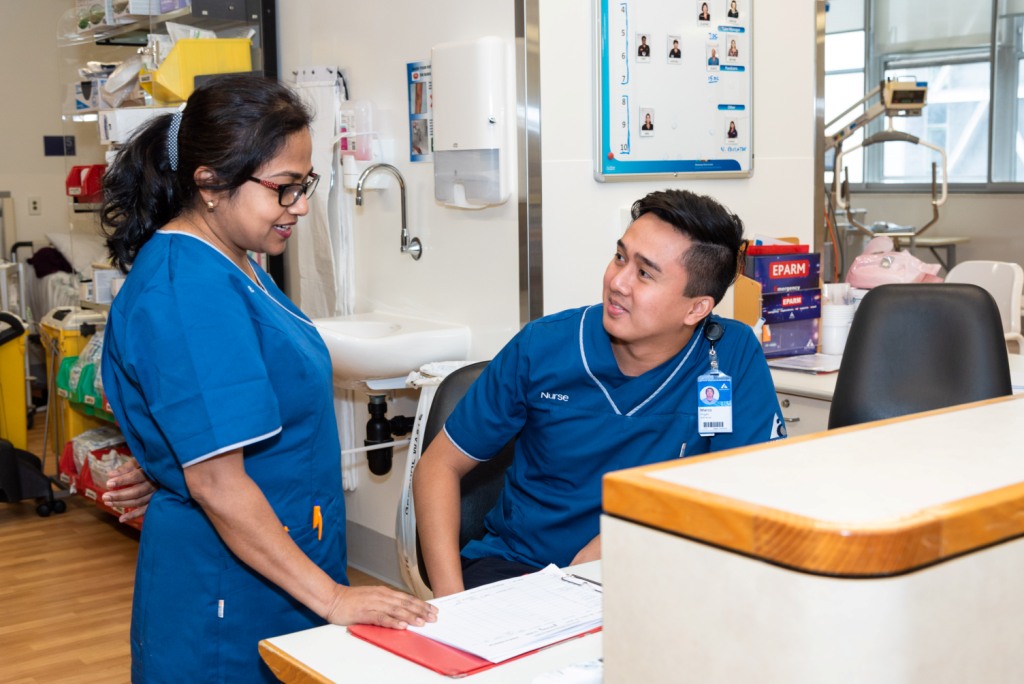 Support the service delivery to our Acute Haematology patients outside Motutapu ward across the hospital.
Demonstrate your expert knowledge and work well with a multidisciplinary team.
Grow your career and learn with us!
1 FTE Permanent position available!
Te whiwhinga mahi | The Opportunity
The Haematology Service at Auckland City Hospital is comprised of a 30 bed inpatient unit including 14 bone marrow transplantation (BMT) beds, a Haematology Day Stay Unit and outpatient clinics. The regional BMT service covers Northland and the greater Auckland region for autologous and allograft transplants and includes the Waikato, Bay of Plenty, Lakes and Tairawhiti DHB's for allogeneic transplants.
This permanent fulltime position is a senior nursing position and the primary role is to support the service delivery to our Acute Haematology patients outside Motutapu ward across the hospital including acute presentations through level 2 and Haematology Daystay. This role involves Monday-Sunday rostered 8-hour shifts. This role will be based in Haematology Daystay and includes reviewing and supporting the oncology outlier patients for specialised care.
As the Nurse Specialist, you will be able to demonstrate expert knowledge, advanced clinical skills, work autonomously, be an excellent communicator, adaptable and work well within a team. You will be accountable for care delivery and coordination of Acute Haematology patients outside Motutapu ward and will work in collaboration with the Medical and Senior nursing Haematology teams.
For further details, please refer to the position description here.
Nga Pūkenga Motuhake | Important Skills
It is essential that you meet the following criteria:
A commitment to biculturalism

A commitment to achieving equitable outcomes for Māori

RGN; RGON; RPN; RCpN with or without BN or BHSC (Nursing)

Registration with Nursing Council of New Zealand (NCNZ)

Evidence of competence to practice within the Registered Nurse scope of practice

A current Annual Practicing Certificate (APC)

Minimum Level 4 practice.

Specialty knowledge and practice expertise.

Postgraduate certificate / diploma in specialty nursing practice.

Working towards completion of Master's degree in nursing or health related area

Knowledge of quality improvement processes and principles

A personal commitment to on-going learning and development

Chemotherapy certified
For more information about this role please contact hiring manager, Gurvinder Benipal (Nurse Unit Manager) via GBenipal@adhb.govt.nz
Ko wai mātou | Our Organisation
We are Te Whatu Ora Te Toka Tumai Auckland. We provide health and disability services to more than half a million people living in central Auckland, regional services for Northland and greater Auckland, and specialist national services for the whole of New Zealand. Our main sites are Auckland City Hospital, Greenlane Clinical Centre and Starship Children's Hospital, located in central Auckland.
We are part of Te Whatu Ora – Health New Zealand, the overarching organisation for New Zealand's national health service. Te Whatu Ora leads the day-to-day running of the health system, with functions delivered at local, district, regional and national levels.
We are also an Accredited Employer with Immigration NZ (Please visit Immigration NZ Accredited Employer Work Visa for more information if you will be needing a Work Visa)
We are committed to upholding Te Tiriti o Waitangi and providing culturally safe care. We value role modelling manaakitanga as demonstrated by Ngāti Whātua in the gifting of their whenua on which our hospitals stand. We aspire to having a workforce reflective of the communities we serve and achieving equitable outcomes for all.
He aha ngā painga o tēnei mahi mōu | Why you will enjoy working here
We recognise there is more to life than mahi | work, and we encourage and provide access to all our staff several services and benefits to support themselves whilst they are employed within Te Toka Tumai Auckland.
For more information on what we offer, please click here.
Me pēhea te tuku tono | How to apply
Please submit your application online, outlining your experience and motivation to apply to this role.
If you have any queries about accessibility, or technical issues with the online process, please contact Jeanine Taccad, Recruitment Consultant via JeanineT@adhb.govt.nz to discuss how we can best support your application.
Immigration/Visa Support
Immigration NZ has introduced a new Accredited Employer Work Visa system from 4 July 2022 that includes a simplified residency process for health workers on the new "Green List" of occupations – and this position is one of those designated critical positions! For successful candidates offered a position with us who require a Work Visa, we will provide support with their Visa application. Here are the links to two key pages of NZ Immigration's official site for more information: Immigration NZ Accredited Employer Work Visa and Immigration NZ Green List Occupations
Ngā taipitopito tūranga mahi

| Job details
| | |
| --- | --- |
| Employer: | Te Whatu Ora - Health New Zealand Te Toka Tumai Auckland |
| Location: | Auckland |
| Position type: | Permanent Full time |
| Category: | Health |
| Date listed: | 10-Sep-2023 |
| Closing date: | 25-Sep-2023 |
| Reference: | AUC17955 |
| Attachment: | No File Attached |
| File links: | |
| Website: | https://www.adhb.health.nz/ |
Note: You may be redirected to the employer's careers website.